Vaulted or Cathedral Ceiling – What Makes Your Home Luxurious?
In reporting anything other than a flat ceiling, two phrases are commonly used – vaulted and cathedral. 
What is a Cathedral Ceiling?
A dramatic design option for your new house is a cathedral ceiling. 
In comparison to a flat ceiling, a cathedral ceiling towers above your head, creating an arched physical layout. 
With high-placed windows and faux wood beams, a cathedral ceiling can widen a room and increase the spaciousness.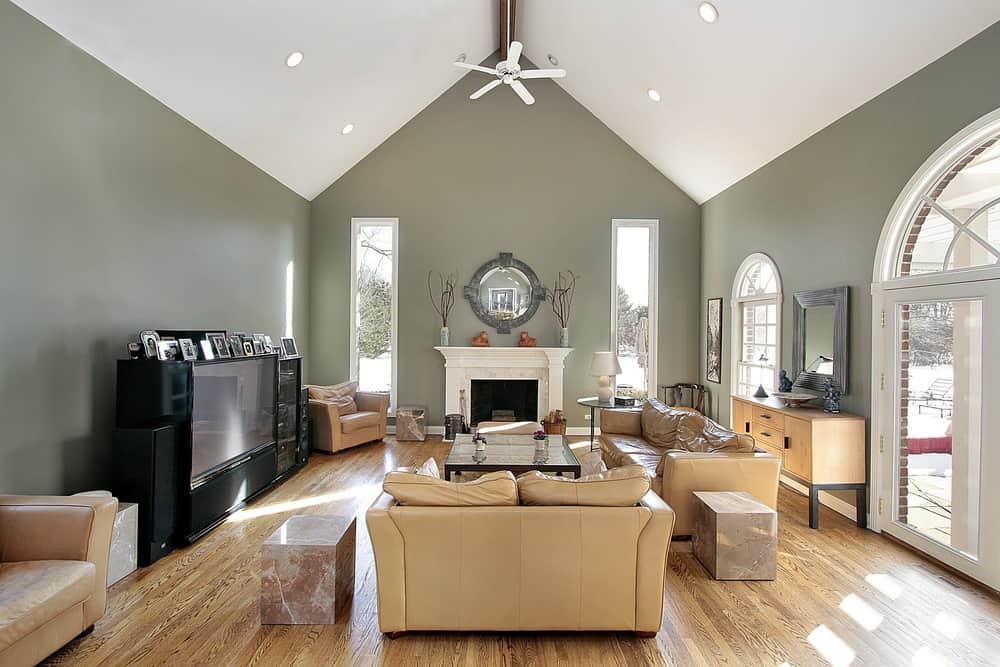 Vaulted and cathedral ceilings have evolved in and out of interior trends over the years, but their potential for adding drama to spaces cannot be ignored. They can make a tiny room feel more spacious, and a large area genuinely astronomical. 
What is the difference between the vaulted and cathedral ceiling?
Cathedral ceilings were introduced from their namesake – cathedrals. By architectural description, these ceilings are characterized by symmetry with even steeply slanted sides, converging at a rim in the middle of a room and naturally mirroring the pitch of the roof structure. 
Vaulted ceilings are not usually built using the same angle as the roof. They can have a unique sloping side, a curved or arched slope, or unequal sloping sides and are most frequently framed using engineered scissor trusses. 
Both cathedral and vaulted ceilings make it simpler to install skylights without the profound tunnel effect of working between trusses.
On the practical side, the perspective of aesthetics and efficiency is an individual choice that needs to be considered.
 A cathedral ceiling without any form of convective or automatic air circulation can waste the volume of electricity in the winter as the warm air rises and remains well above the residents. With that being said, a cathedral ceiling combined with ventilating skylights can assist in keeping a home consistently cold during the summers using an automatic temperature sensor to open the skylight. Models are also available with rain sensors.
Cathedral Ceilings: The pros and cons
While looking at houses, one sees after looking away from the windows is the interiors, where ceiling height plays a significant role. 
Here are some pros and cons of these ceilings
Fantastic Bedroom Color Schemes
Cathedral Ceiling Pros
·      Increased spaciousness of your house
·      Complements the base of the structure by giving character to an otherwise unexceptional home.
·      With a stairway moving through the middle and a small loft opening out over the cathedral area, the layout is functional without being pretentious.
·      A way for natural light – Well placed windows high above the floor towards the ceiling's ridge permit sunlight into the cathedral ceiling's upper portion.
·      An exquisite beam sized and placed relative to the ceiling's length is another striking design feature possible with a cathedral ceiling.
Cathedral Ceiling Cons
·      A cathedral ceiling might have drawbacks if the design looks awkward. Just because you can install a cathedral ceiling does not mean you should. 
·      It is mostly a matter of taste, but if a cathedral ceiling detracts from a home's cozy charm, don't build it.
·      In terms of construction cost, cathedral ceilings can multiply the price for framing a room.
·      It might also add up to heating and cooling costs because more open space means that heat and air conditioning are stretched thinner.
·      If there are light fixtures on the ceiling, changing light bulbs become a huge ordeal. 
·      Finally, cleaning the windows and walls in a room with a cathedral ceiling requires either a professional or a very tall
ladder.
While ceilings offer more height and openness to a room, they will not fit every house. Aesthetically, a cathedral ceiling could go either way. Practically speaking, cathedral ceilings pose some problems as well. If the design intrigues you, and your home would benefit from it, a cathedral ceiling is a lovely addition. Consider both the positives and negatives of a cathedral ceiling before deciding on your home's architectural arrangement. If a ceiling opens the space without restricting its warmth, it may be the right fit. By contrast, if it seems out of place with the rest of your home, it probably is.
Minimalist Bedroom Tips That Will Inspire You to Declutter
Cleansing and Maintenance of Cathedral Ceiling 
Based on the ceiling height in your house, cleaning the roof may prove more complicated than for a conventional flat ceiling. Reaching the higher areas of the ceiling for dusting may need a ladder and extension tools, and, should you wish to repaint the roof, you'll probably require to stand on scaffolding. Ask yourself if the added effort will be worth the visual impact a cathedral ceiling adds to your home.
Tips for Lighting Your Cathedral Ceiling
Conventional lighting is a fundamental element of good interior design. If you've ever tried to read a book or prep a meal in a poorly lit location, you know that sufficient lighting is imperative from a functional aspect. The right lighting also performs an essential role in the appearance and quality of your rooms.
Here are some tips for Lighting Your Cathedral Ceiling
Focus on Function
A lot occurs in the shared living areas under a living room ceiling, from entertaining to watching television, cooking, dining, and playing games and reading. As a result, lighting in these locations matters—a lot. Concentrating on function first will help decide when and where to incorporate task, ambient, and accent light properly. 
Add a Style Statement
To help determine the right fixtures and settle placement, think of the areas below a vaulted ceiling like a blank canvas and the light fixtures as an art. Your goal is not only to provide sufficient lighting but also to generate visual interest, adding a layer of vogue into an otherwise vacant space. Decide on the look you want—contemporary, rustic, or transitional—to guide your search.
Consider the Source
When picking bulbs to place in the fixtures in your ceiling, LEDs and CFLs are both a smart choice. As a rule of thumb, LED bulbs are most fitting for rendering directional lights, such as task lighting for reading or cooking, while CFLs are the right choice for general or ambient lighting. Tip: you can also purchase diffusers for your LED bulbs to make them better suited as an ambient light source.