Small Living Room Ideas – A guide to decorate a living room.
Very much like the kitchen, the living room can just as be considered as the heart of your home. It's where you relax after a long day, entertain, read a good book, loved ones, and so much more. But if your living room is small, you might be baffled by how to attain a chic look that's both practical and convenient. Consider these small living room decor tips to make the most of your space.
Tips To Decorate a Small Living Room
Vaulted or Cathedral Ceiling – Styles that will Make Your Home More Luxurious?
If your living room is crowded and cluttered, the last thing you'll want to do is to use it. That is if you trick your eye into thinking, space is more significant than it appears. It's not magic; it's just smart styling. 
Plan Your Room Arrangement
It is better to plan your room layout before decorating a space that is so limited. It is always a good idea to ensure that the structure will be functional for your needs, along with the dimensions of the stuff you want to put in the room.
Let the Natural Light Pour In
If your living room has a passage to a ton of natural light, don't obstruct it with dark shades. Let the light flow in, to make the area appear more spacious and accessible. Even if you don't have giant windows and tons of sunlight, opt for lighter shades to maximize the light you do have. Semi-sheer shades can also be a great option in this case.
Determine What the Room Will Be Utilized For
Before diving deep into decorating, determine the core use of the space, you are designing. Will it be a simple seating area, or will be used to have friends over all the time for movie nights? Always keep in mind the core factor behind the room while placing everything.
Modern Home Plans And Design Tips
Play with Balance of the room in your Small Living Room
Don't be afraid of incorporating a big statement in a small space. There's a contrast between clutter and well-curated and dramatic design notes. Never be scared to bring out your personality in the area that you are designing.
Consider Your Furniture
Since you don't have the luxury of a lot of space, you can't just throw a bunch of pretty things together and hope it'll work. it's essential first to consider all the furniture pieces you'll need to create a "welcoming, livable space." Quiz yourself, Would stools or ottomans work better in the space than armchairs? Would a side table be a more size-friendly option than a coffee table?
Choose A Large Rug for your Small Living Room
Choosing a rug with is enormous or has a bold pattern—it is a trick that makes a room feel larger. Unlike smaller rugs, the size doesn't visually divide the floor and also helps to anchor the space and provide a decent staple piece to design the rest of the room around. A corner seating arrangement can also help you get more out of your area.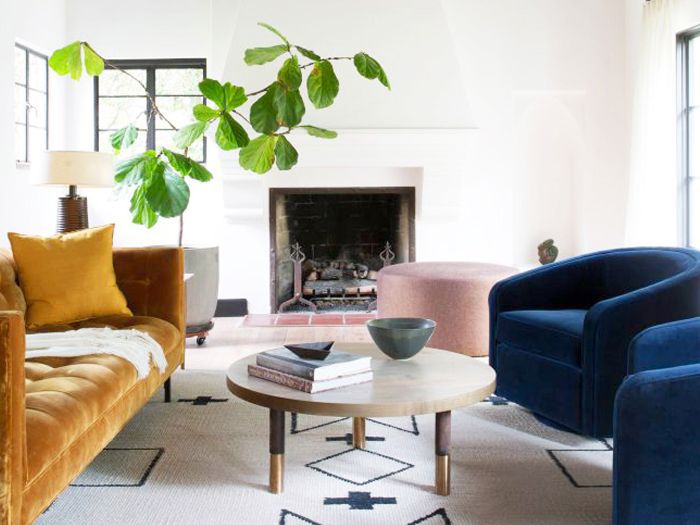 Choose Narrow Pieces
If you have decided on big and bold places, it is better to choose pieces with a sleek form like a "sofa with a low, narrow shape and slender arms; chairs with thin or no arms; and stands with glass tops, light or cutaway table legs.
Brown and Grey Living Room Designs
Keep It Cosy
Leaning into the minuteness of space can be what makes it feel genuinely cozy and welcoming. Keep seating adjacent together and private, and opt for a plush, soft rug if you're decorating a family room, where you'll want everything to be super welcoming and functional.
Pick a Dark Wall Colour
Dark, glossy wall colors form a refined backdrop for simple, clean-lined pieces or even colorful, bold items. Use the small spaces to your benefit and make it feel fancy. Painting your roof the same color can magnify the sense of intimacy even further.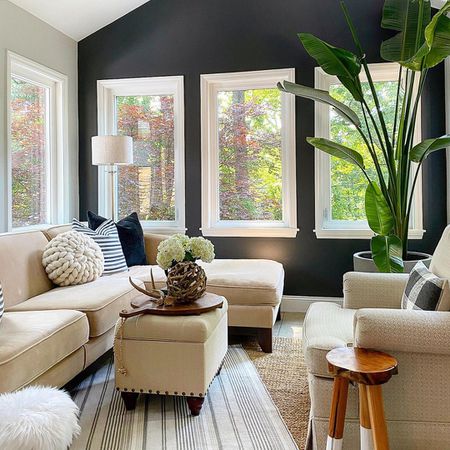 Make It Multifunctional 
When space is restricted, the only alternative is to get creative and make things multi-purpose. For example, if you don't have space for a separate living room, family rooms, and home office, combine each idea into one space. The right layout can look great, no matter what form or size of the room.
Take Advantage of High Ceilings
Even if you lack square footage and surface area, you can take full advantage of high ceilings by accentuating tall windows with high curtains and show-stopping wallpaper. Also, a curtain hung above a window increases airiness and height to the room. Keep the curtain pattern basic but use more fabric for saturation.
Add Ottomans
Use ottomans rather than a traditional coffee table to make greater use of your space. You can add them with a tray to hold flowers and books or use it as extra seating. Then when it's family time, they become footrests.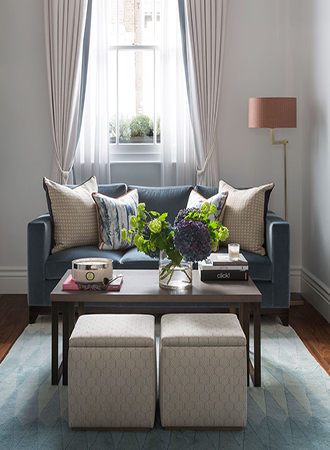 Interior Design : What Color Goes With Orange
Display Artwork Strategically
Bring your artwork up to date and accentuate the height of the room. A gallery wall might seem too busy for a small space, but it can make it feel more massive if it extends to the ceiling. A mirrored effect on the roof makes the small area feel more prominent—and more glam.
Introduce Clever Lighting
Choose lighting pieces connected to the walls or hung from above to save room on floor space. Swing-arm sconces also free up space on side tables
Hang a Chair
Swing chairs are super enjoyable and bring a design moment into the room. More importantly, it can bring a drastic change in a tiny living room or family room. You can add accommodation without taking up a ton of floor space.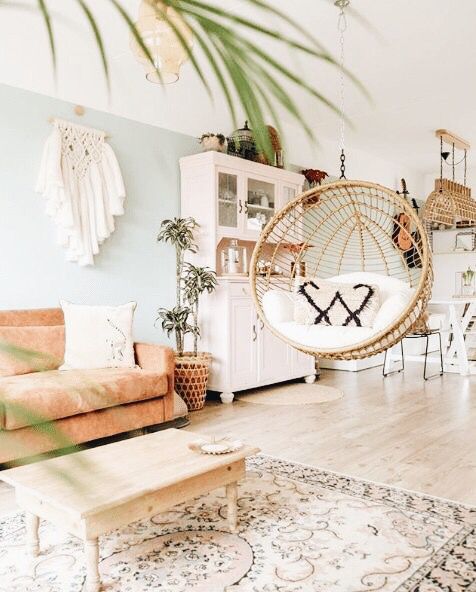 Maximize storage potential
Small living rooms necessitate being kept fresh and uncluttered with good storage. An excellent way to make a small living room appear bigger is to keep it meticulously neat and to do that, everything in the room requires to have a proper place. Floating shelves are perfect for small spaces because they can endure many things on a wall or in alcoves. You can also choose bespoke fitted, floor-to-ceiling shelves and cupboards that execute the use of every inch of spare space.