Bedroom Paint Ideas For Teenage Girls
Nowadays, youngsters are more stylish and trendy than grown-ups themselves. They have a distinct taste with different styles and designs. Hence, if you are a parent with teenagers in the house, Give them the reins to design the bedroom of their dreams, especially for girl teenagers. Read this article thoroughly for some perspective on Bedroom Paint Ideas For Teenage Girls.
Anyone who has been a teenager understands the significance of their bedroom. It can be a refuge for them to express themselves and feel safe. What goes into your teenager's bedroom can be incredibly helpful in shaping who they are as an individual. Being a teenager implies striving to comprehend who you are while you have very little to your name. When a teenager feels like they can't profess anything for themselves, it can be quite frustrating. A teenager might not be able to verbalise these ideas, but when they're in a bedroom that is their own, they can feel astonishingly at peace. Show your teen how much you love them by providing them with an outstanding bedroom area and some much-required space.
As your little princess grows to a young adult, she may no longer want the sweet fairy decals on her bedroom walls or that little bunny theme filled in her room. Your teen will express what colour scheme she wants. However, if you are working on a budget, the simplest and most affordable way to modernise her room is to repaint it.
Do you still find these a bit complicated?
Here are some Bedroom Paint Ideas For Teenage Girls that might fit your young lady wishes.
Boys Bedroom Ideas For Toddlers
Fantastic Bedroom Color Schemes
Interior Design : What Color Goes With Orange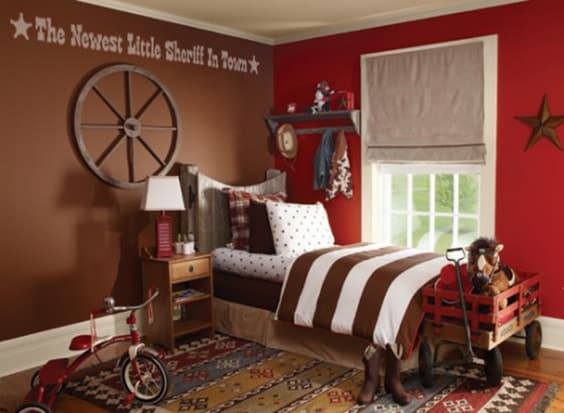 A Guide to decorate a Teenage Girl Bedroom
Use Bold Color Combos.
Glam up the space
Let One Piece be the focal point 
Choose The Perfect Bed
Provide Plenty of Shelving Space
Opt for Oversized Wall Décor
Include Playful Details
Use Wallpaper for a twist
Take Advantage of the "Fifth Wall." aka the roof
 Create a Hang-out Spot.
Pick Teenager-Friendly Artwork.
Include a Work Space.
Set Strategic Lighting.
Decorate with Plants.
Pick One Unique Element.
Keep an interior design theme  
Complement your floors 
Your teenager's tastes might change with time. Just because they like their bedroom now, can change in a few weeks or months. Be steady with your teenager and the choices they make for their bedroom. It displays their developing sense of identity. When the time arrives for them to leave the house, their bedroom will help it feel like they're still there.
The essence of the teenage bedroom cannot be underestimated. Think about your own experiences with your bedroom when you were a teenager. Take this in mind and help give them a bedroom that they'll always cherish. 
Breathtaking Walk-In Shower Designs